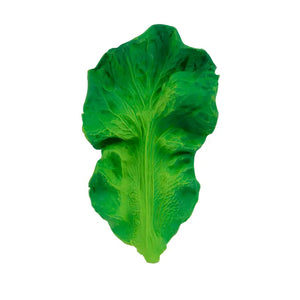 KENDALL THE KALE is a chewable vegetable-shaped baby toy for sensory play, teething and bath time. Little gums love the texture of Hevea rubber. Soft and easy to hold by babies' hands.
The kale is water-rich and full of minerals. Its soft ramifications will help your baby develops its sense of touch.
Introduce your baby into a healthy lifestyle from a young age with KENDALL THE KALE.
Old & Carol's fruits and veggies are designed with no holes so when they're floating about, no bacteria or mold is created! 
No Holes = No Mold
Made from 100% natural rubber from Malaysian Hevea trees and hand painted with safe, natural food graded dyes
Ecological, biodegradable, and eco-friendly
Non-Toxic: BPA, PVC, Phthalate and Nitrosamine free
Anti-bacterial and highly hygienic
Soft, easy to grasp and safe to chew
Used as teethers, bath toys, decorative objects and more
Stimulates the baby's senses and soothes teething gums
Designed in Barcelona / Made in PRC
Due to the use of natural rubber, there may be minor variations in color and shape